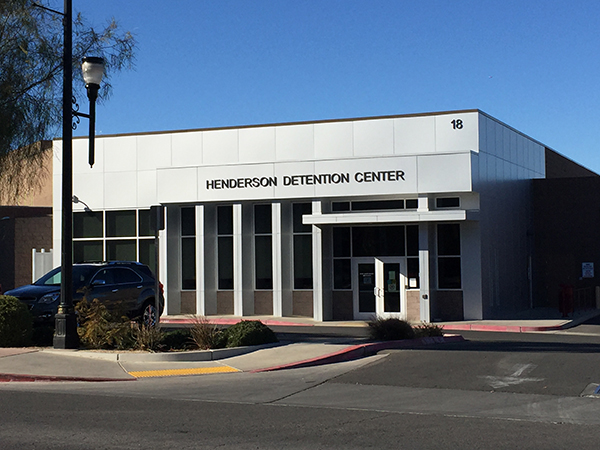 Located in downtown Henderson, Nevada, the Henderson Detention Center houses around 500 inmates at maximum capacity. Persons arrested on immigration status, or in Henderson city limits are housed here. Bail and inmate information at this facility is available to the public 24 hours a day, 7 days a week.
The address of the detention center is 18 Basic Road, Henderson, Nevada 89015. The detention center is located between the streets of Basic Road, South Texas Avenue, and South Water Street. There are multiple options to choose from when attempting a Henderson Inmate Search. These options are as follows:
Using the Henderson Inmate Search Tool
Arrestees who are being processed and booked will not show up immediately in the Inmate Search database. Processing and booking of arrestees may take four or more hours depending on the volume of people awaiting processing at the time of arrival to the facility. Once booking and processing is completed, arrestees will then be available for search on the database.
Also, see: North Las Vegas Detention Center
Searching for an Inmate by Last Name
By using a computer, one can go online and locate the box labeled "Inmate Name." By entering the first two to three letters of the inmate's last name, the search will return a complete list of every resident of the facility whose name begins with these two to three letters. For a more specific search, enter the complete last name of the resident spelled completely correct. Please note, that only Henderson inmates are kept and listed on this database. If by entering only the first few letters of the last name of the prisoner, the database may return more results than desired. Be as specific as possible when using the system.
Also, see: Las Vegas County Jail
Searching over the Phone
The telephone option for a Henderson Detention Center Inmate Search remains the most efficient and quickest way to locate anyone who is currently incarcerated in the jail. Available for quick and easy access, just as visiting the facility for information, any number of helpful customer service agents can determine the location and status of a prisoner within the jail. To contact the facility to find more information on a prisoner, using a touch tone telephone, dial (702)462-9200 to speak with a facility customer representative.
Also, see: North Las Vegas Jail Inmate Search
The Henderson Detention Facility provides these means of public assistance for incarcerated individuals as a service to family and friends who are attempting to locate their person of interest currently residing within the jail. The multiple options provided are for informational use only, as the jail and their employees cannot answer questions about topics such as sentencing, plea bargains, or any other type of transaction that may be in process between the prisoner and the District Attorney's office. For specific information regarding a prisoner's case, please contact the assigned legal counsel or visit the prisoner personally. Also, see Clark County Jail Inmate Search.